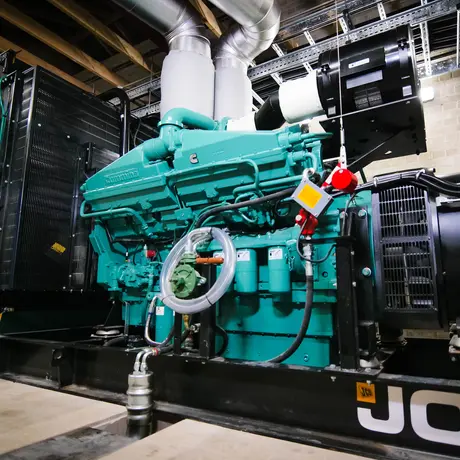 Case Study
Backup Power for a Midlands Hospital
Power Control and Automation Solutions Ltd (PCAS) partnered with ComAp recently and installed InteliGen 1000 at a back-up power plant in a hospital in the Midlands, United Kingdom. PCAS is a mission-critical power solutions company working internationally on data centres, hospitals, CHPs, gas peaking plants, with over 1000 MW of power installed and commissioned across the UK.
The hospital approached PCAS for an end to end solution from conception to completion due their knowledge of the hospital technical manual and the requirements to allow a successful project. They spoke in length to the hospitals project team to deliver a workable solution due to the plant room being quite small. They proposed utilising a JCB generator and fitting the system with the latest ComAp InteliGen 1000 controller along with the new InteliVision 5.2 display to allow power management and an N+1 solution.
"The InteliGen 1000 gave us the power we needed to run this application. The pre-programmed functions allowed us to put the engine into operation very quickly and the large in-built PLC interpreter allowed us to implement the specific customer requirements easily and quickly on our own. Cyber security, redundancy options, and G99 readiness were the main attributes for selecting this controller," said Stuart Turner, Managing Director at Power Control and Automation Solutions Ltd.
The InteliVision 5.2 gave them and their customer fast and easy access to control the gen-set, and the easy to read on-screen information made helping the customer with any fault finding very easy. When commissioning, they found that InteliConfig, ComAp's latest configuration and monitoring tool, was easy to use and allowed for intuitive programming.