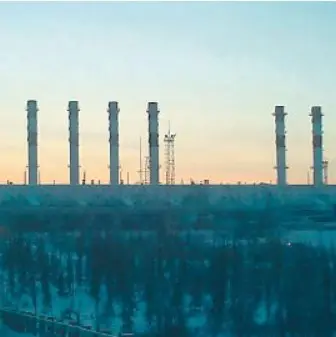 Case Study
Power System for Vankorskoe Oil Field
The Vankorskoe (Vankor) Oil and Gas Field, located in the Krasnoyarsk Territory in central Russia is one of the largest industrial projects in Russia. The oil and gas field comprises of 1,685 infrastructure facilities, including an oil treatment line, a 210-megawatt gas turbine power station, and tank farm with capacity of 140,000 cubic meters of crude oil. The estimated production capacity of the field is around 510 thousand barrels of oil a day, with oil reserves totalling an estimated 3,800 million barrels.
To power the the facilities there are eight gas turbines, and two Caterpillar diesel generators. ComAp's InteliSys NT is used to provide automatic synchronisation and parallel operation between the gas turbines and the diesel generators.
The InteliSys controller was chosen for this project because it provides freely programmable logic, 1000 history entries, communication with an electronic control unit in the engine, regulation and indication of electric parameters, and providing for control, complex protection and reliable operation of the entire system. Another important feature of the ComAp control system is its open communication protocol Modbus RTU. It makes it possible to easily integrate information from ComAp control systems, also from ECU of Caterpillar engines, into the SCADA system of the entire oil field.
Control panels with the InteliSys NT controller are electric metal cabinets of wall-type installed in the turbine room. The following components are installed on the front fold of the control panel cabinet: a colour 8-inch display InteliVision 8, a power circuit breaker and a control system operation mode switch, and an emergency trip button. Inside the panel there is a process controller InteliSys NT BaseBox, relay components, automatic circuit breakers and fuses.