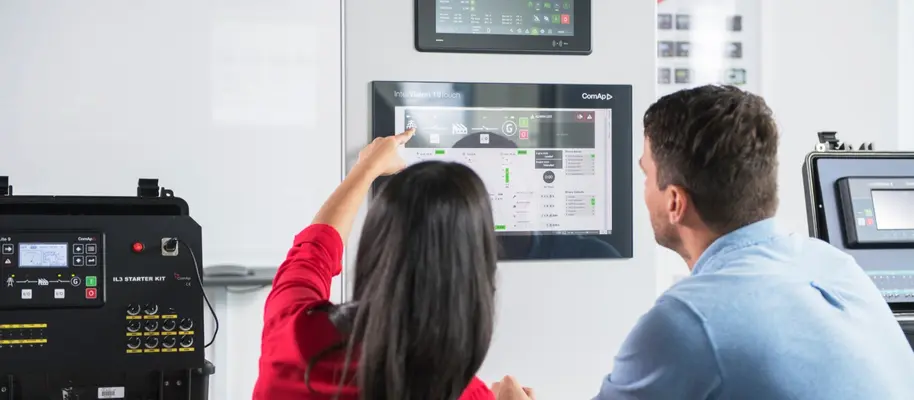 Complex Applications Training
Face-to-face course
Complex Applications
Location: Prague 7, U Uranie 1612/14a, 17000, Czech Republic
Training fee: 330 EUR per person per day
Capacity: 12 participants

Do you want to know how to customize ComAp controllers to match complex applications? Do you have a problem orienting yourself in controller communication capabilities? These questions and many others are answered in this set of sessions focused on complex sites consisting of several power sources - multiple gen-sets and multiple mains incomers. Learn more about the features that will help you customize the behaviour of ComAp controllers according to your requirements. You will get to know the specifics of our most powerful controllers including InteliSys GSC and InteliSys Gas to become an expert.

The course is aimed at participants who have already attended our parallel gen-set controller course or participants who already have previous experience with paralleling controllers.
Covered Controllers:
InteliGen 200, InteliMains 210, InteliGen 500, InteliGen GSC-C, Intelisys GSC-C, Intelisys Gas, InteliMains GSC

Covered SW Tools:
InteliScada, InteliMonitor, GenConfig, WebSupervisor, ECU Value Editor
Our hands-on training takes place at our modern training facility in our Prague headquarters.
DAY 1
| | |
| --- | --- |
| 9 AM - 11:45 AM | Multiple Island Applications |
| 11:45 AM - 12:30 PM | Lunch break |
| 12:30 PM - 3:30 PM | Multiple Parallel with Mains Applications |
DAY 2
| | |
| --- | --- |
| 9 AM - 12:15 AM | Communication with Electronic Engines and 3rd Party Device |
| 12:15 AM - 1 PM | Lunch break |
| 1 PM - 4 PM | PLC Features |
DAY 3
| | |
| --- | --- |
| 9 AM - 12:15 AM | Complex Site Monitoring & Customization |
| 12:15 AM - 1 PM | Lunch break |
| 1 PM - 3:30 PM | PLC Features |
| 3:30 PM - 4 PM | Test & Feedback |