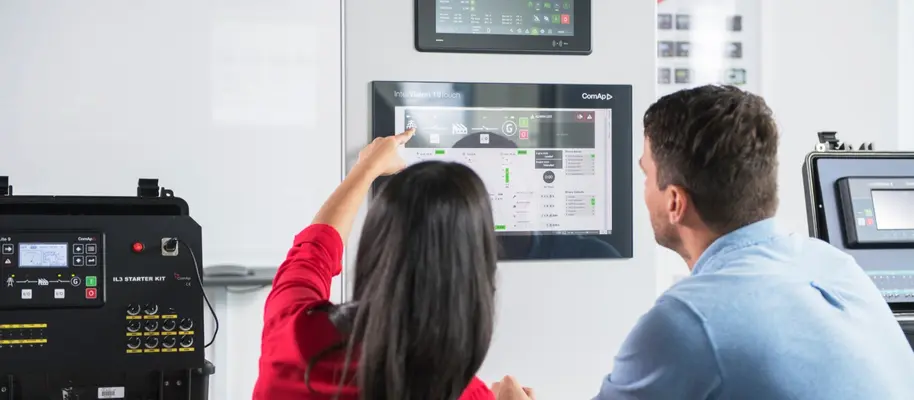 Paralleling Gen-set Controllers Training
Paralleling Gen-set Controllers Training
Location: ComAp South Africa - Unit 1, 28 Riley Road (Cnr Riley and Grobler Ave), Entrance in Grobler Ave, Bedfordview, Germiston - Johannesburg, South Africa
Training fee: 1950 ZAR per person, excluding VAT
Capacity: 10 participants

The course targets on InteliGen NT and InteliSys NT controllers. Participants are expected to have a basic knowledge of gensets and power distribution systems. No previous knowledge of ComAp products is required.
After finishing this training, you will know which ComAp product to choose for your application, where to get detailed information about using the device and how to configure the controller. Further to this, you will also gain knowledge of extending controller capabilities using ComAp controller accessories, including information about remote monitoring and control systems. The training contains several practical sessions where you will be working directly with ComAp controllers.

Note: Single and Paralleling gen-set controllers training can be combined; Paralleling gen-set training always follows Single gen-set training.
Day 1

9:00 - 11: 45 Paralleling genset applications & controllers overview
ComAp technical support and website introduction, general overview of paralleling applications, documentation, controllers and possibilities of extending their functionality.

11:45 - 12:30 Lunch

12:30 - 15:45 Configuration​
Detail introduction of monitoring and configuration tools - InteliMonitor, GenConfig and WinScope. Controller software management - Firmware, Archive. Hands-on training with a paralleling genset controller on the genset simulator.
Introduction of advanced functions and PLC editor.

Day 2

9:00 - 12:00 Communications
Internal and external communication modules (InternetBridge NT, I-LB+), supported communication protocols. AirGate, WebServer, ECU. Hands-on training on MODBUS RTU/TCP, IB-COM module.

12:00 - 12:45 Lunch

12:45 - 15:15 Commissioning
Commissioning and its important steps, checks before engine start, first start conditions (using Winscope), voltage and speed regulation, synchronization process, gensets paralleling, power management.

15:15 - 15:45 Test, Feedback