ComAp has solutions for both stationery and mobile engine applications. Our simple bi-fuel conversion system modifies your original diesel engine so that it uses gas as the main fuel, which helps to substantially reduce your operating costs.
The system works by introducing gas into the engine and then electronically controlling the gas flow depending on engine speed, output power and operating behaviours. All this is done without compromising the engine's power output, running time or maintance schedule.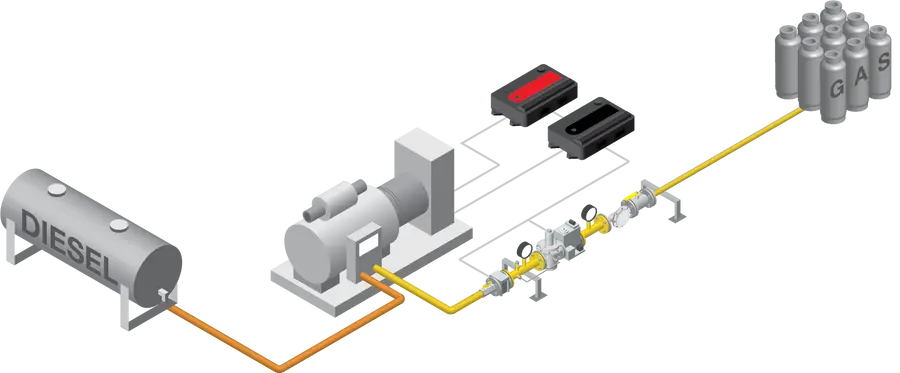 InteliBifuel controller is a fully programmable solution designed for any single speed Bi-fuel application, such as Oil & Gas, Mining and Rental. The controller has an algorithm that does automatic compensation for gas quality change, i.e. automatically adjusts the amount of gas in the engine to the quality of the fuel.
InteliBifuel Denox is a unique anti-knocking engine protection controller, specifically designed for bi-fuel applications to ensure proper detonation is always maintained while the engine is working.
Our solutions work with any type of gas: natural gas, hydrogen, natural gas + hydrogen combination, flare gas, synthesis gas, LPG, landfill gas, biogas.
This solution comes in an easy-to-fit package which converts your diesel engine to run primarily on gas. ComAp has solutions for both stationary and mobile engines, helping you to be more sustainable and optimise costs with either solution.
Hydrogen naturally helps to reduce carbon emissions and particulate matter (PM) exhausts from diesel combustion engines. With our diesel and hydrogen bi-fuel solution, your engine can easily switch between the two fuels and replace up to 30% of diesel usage with hydrogen. Hydrogen has a faster rate of flame propagation, which in return increases the engine's efficiency.
Using our solution to replace diesel with hydrogen will ensure greater energy stability and help you optimise costs, decrease your reliance on carbon fuels and reduce your emissions.

ComAp's tri-fuel solution combines the benefits of natural gas and hydrogen together in a bi-fuel mode. Replacing diesel with this combination can help reduce the emission of pollutant gasses and particulate matter (PM), optimise the work of the engine and decrease your fuel expenses.
By using and combining the different fuel mixtures, you can reduce your diesel usage by 60%. The hydrogen and gas are injected indirectly as close to each intake channel in the cylinder head as possible. This is done using the Multi-Point Injection (MPI) method, which enables precise dosing of the mixture of hydrogen and gas for each cylinder and ensure safe operation of the engine.